Disclaimer
De meningen ge-uit door medewerkers en studenten van de TU Delft en de commentaren die zijn gegeven reflecteren niet perse de mening(en) van de TU Delft. De TU Delft is dan ook niet verantwoordelijk voor de inhoud van hetgeen op de TU Delft weblogs zichtbaar is. Wel vindt de TU Delft het belangrijk - en ook waarde toevoegend - dat medewerkers en studenten op deze, door de TU Delft gefaciliteerde, omgeving hun mening kunnen geven.
Vindplaats Delft (minor AP 2010)
The last few days were quite hectic. Tuesday we printed four small molds with the 3d-plaster printer. These molds were finished with different materials so we could see how it would behave in the molding process with porcelain.
The first mold was impregnated with clear coat from a car-spray can (only the outside). The second one was impregnated completely with it, the third one was impregnated completely with clear nail paint and the fourth mold was original, we did nothing with it. Also, we had an extra piece of plaster (140 powder, impregnated with bathing salt), which we could use to test.
After the meeting on thursday, Maaike went to her studio and tested these molds. The results were quite disappointing. The result was that only the original mold and the 140 powder mold were absorbing water which is essential in the process. The others were to heavily impregnated and couldn't absorb anything. Also the powder gets weak when it gets in touch with water.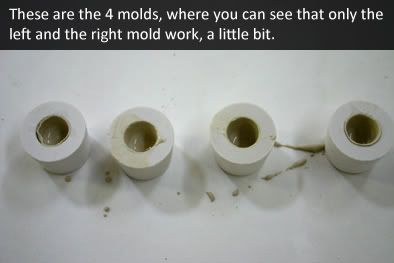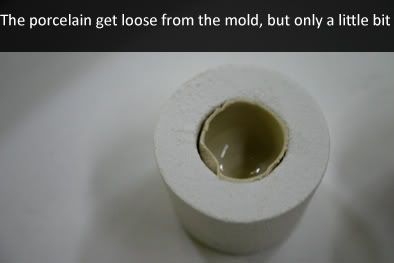 Before last thursday, we also wanted to print a positive mold (identical to a glass) out of plastic on the liquid-plastic printer. This could then be used to make a plaster mold for making a lot of porcelain cups. But, bad news; The machine runned out of plastic-liquid and there is no reserve material. We were quite disappointed about this situation because we can not test this method now and we hope they get the material before we need to print the Museum Boijmans Van Beuningen glass in the week of 11 October. These positive molds will be used to create the plaster molds in which the 100+ serie of porcelain cups will be made.
After this, we decided to print the positive glass mold in the plaster printer. This is now printed and is drying over the weekend. After the weekend we will impregnate this cup with something like epoxy so it gets so strong, plaster can be poured all over it to make a negative mold out of it. We hope this method will work out. We will also try to find out how we can make a good negative mold out of the 3d-print plaster…