Disclaimer
De meningen ge-uit door medewerkers en studenten van de TU Delft en de commentaren die zijn gegeven reflecteren niet perse de mening(en) van de TU Delft. De TU Delft is dan ook niet verantwoordelijk voor de inhoud van hetgeen op de TU Delft weblogs zichtbaar is. Wel vindt de TU Delft het belangrijk - en ook waarde toevoegend - dat medewerkers en studenten op deze, door de TU Delft gefaciliteerde, omgeving hun mening kunnen geven.
Today we made a test scan of three glasses. These glasses are also from the 17th century Henkes collection so we could make a good test scan. We made this scan with the medical CT scanner (Siemens Somaton series) at the faculty of Civil Engineering. After making the scan we discussed what we could do next. We decided to make two types of molds of these scanned cups; a negative mold made by the 3d plaster-printer, and a positive mold made by a 3d-plastic printer. This way we can see if the print material is resistant to porcelain and how the result will look in porcelain.
On Thursday or Friday we have the results of the test with the plaster 3D print. If this works we can continue by making more scans and creating 3D prints. If the result is negative we have to look for another solution. We already brainstormed about coating the 3D print with different materials to see what works the best. First we have to see what the results of the test are before looking further.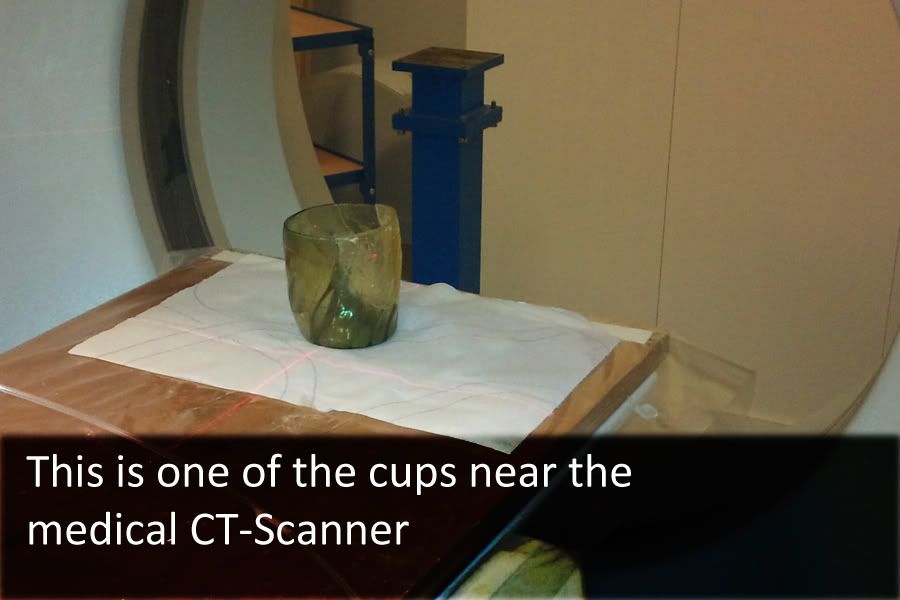 Plastic-positive molds:
The main plan is to create a 100% perfect plastic mold (positive), around this model a plaster mold can be made to produce a 100+ series of porcelain cups. The negative molds will be made out of 3D-plaster to test is porcelain can be molded directly in this material. This type of mold is more of a test and will only produce one porcelain cup.
This afternoon Sisko worked on the 3D files which rolled out of the CT-Scan. Tomorrow morning we will print one glass out of plastic. The plastic printer which will be used is a Objet Eden 260V. This machine works with liquid and UV light and produces pretty high quality surfaces.
This is a demonstration of the printer.
http://www.youtube.com/watch?v=LgPXY8ktbLE
After the plastic molds are made, Maaike Roozenburg will create plaster molds so the first porcelain cup can be molded. The negative molds will be filled directly with porcelain sludge.
3D-Plaster molds:
The negative plaster mold will be printed before Thursday. After a short conversation with Martijn Stellingwerff, we found out the plaster mold, directly out of the 3D-printer, is way to weak and will dissolve if it gets in touch with porcelain. Therefore the first 3d-plaster test molds will be impregnated with all sorts of materials.
Another plan didn't make it today: Milling a negative mold out of a block of porcelain-mold-plaster. This could be a way to make a durable mold in which more then 100 cups could be made, but the milling machine can't handle plaster; the powder damages all the components.
Glass photography:
When Boymans & van Beuningen will bring their precious glasswork next week for scanning, we will also photograph the glass cups. We can use these pictures for presenting the project. Today Michel used a beer-glass with a cracle effect. Afther all kinds of extra lightning, the pictures below shows lighting from below, this way only the glass and it's cracks will be shown on the picture.


What's next?
Before the next meeting on Thursday, the first molds will be ready for use! Sisko will place an extra blog later on about the 3D-STL files, in this blog Sisko will show a few very positive results.