Disclaimer
De meningen ge-uit door medewerkers en studenten van de TU Delft en de commentaren die zijn gegeven reflecteren niet perse de mening(en) van de TU Delft. De TU Delft is dan ook niet verantwoordelijk voor de inhoud van hetgeen op de TU Delft weblogs zichtbaar is. Wel vindt de TU Delft het belangrijk - en ook waarde toevoegend - dat medewerkers en studenten op deze, door de TU Delft gefaciliteerde, omgeving hun mening kunnen geven.
Yesterday the printed cup was ready to be reinforced. This cup is now impregnated with candle-grease. This material gets into the plaster and fills up the brittle material. This way the cup will also be water resistant and the quality of the surface will be maintained.
In the pictures below you can see the candle greas melts in the pan. Also a few test parts made with the same 3D-printer are impregnated, the result was good so the cup was impregnated afterwards. The alternative was epoxy but this material is hard to order and very dangerous for your skin.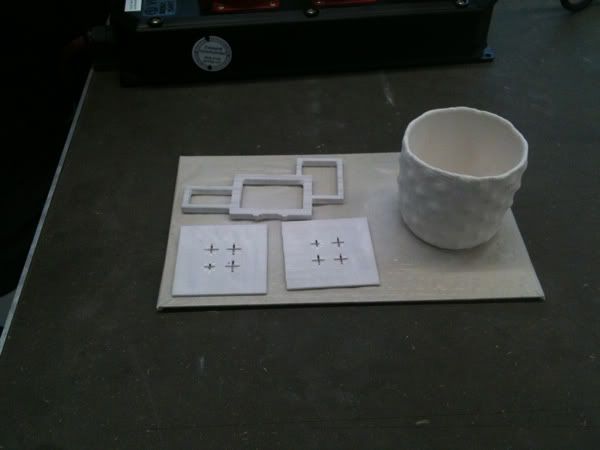 Maaike Roozenburg will test this cup coming thursday, the idea is to make a negative mold out of this cup. With this negative mold, a porcelain cup will be made.
Also, a few extra glasses will be printed before thursday, but only if everything will work out. There are some problems with the DICOM-scan files in which the glue between the different parts of glass is converted into a hole. When ir. Y. Song worked on these files it became clear a lot of the cracks were gone in order to fill up the holes.
Also some other news, the plastic material for the 3D plastic printer should arrive soon. When it arrives we can change the positive mold from 3D-Plaster to 3D-plastic which is stronger and more water resistant.
Coming thursday will be very important. We will scan the Museum Boijmans Van Beuningen glass-work and maybe a few other interesting things will happen…. We will keep you informed.